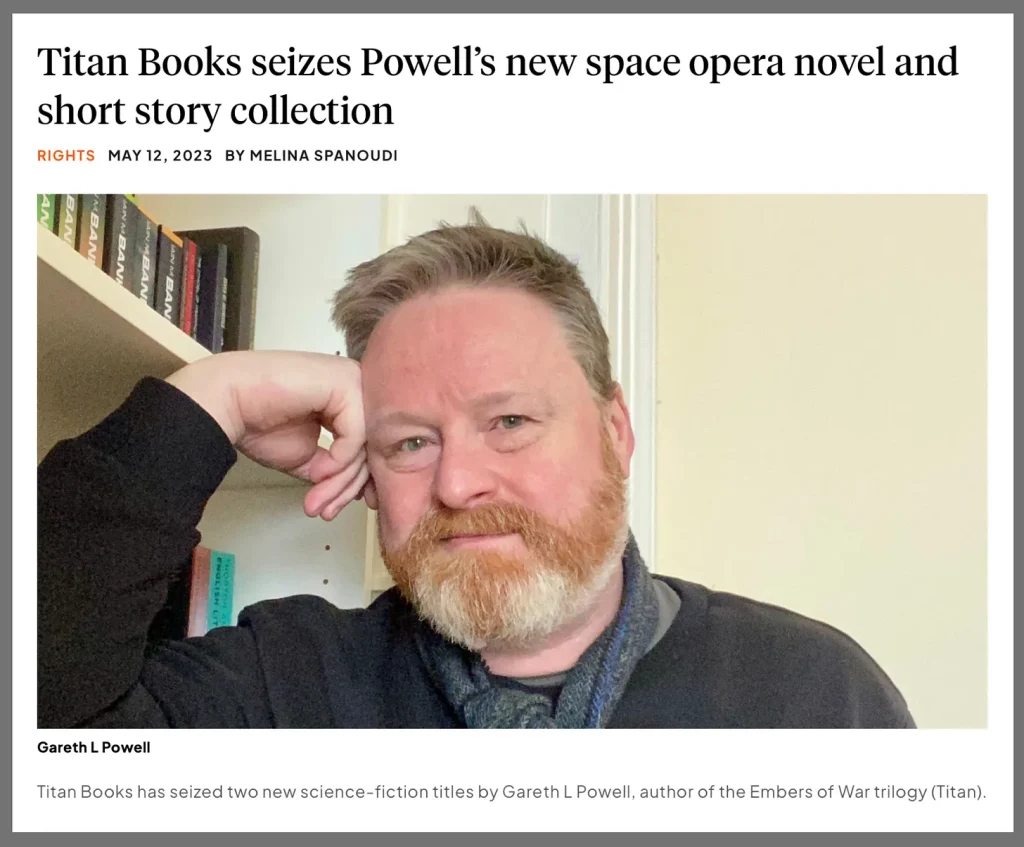 Now that the story has appeared in The Bookseller, I can finally announce that I have sold two new books to Titan!
As The Bookseller has a limit on the number of free articles you can read, here's the text of the announcement for those of you who can't access it:
Titan Books has acquired two new science-fiction titles by the award-winning Gareth L. Powell, author of the Embers of War trilogy, Stars and Bones, and Descendant Machine.

Fiction editor at large Cath Trechman bought World English rights in a two-book deal from Alexander Cochran at the C&W Agency for Future's Edge, a brand new space opera novel full of Powell's trademark themes of found family, romance, horror and heart, and Who Will You Save?, a collection of short stories including some set in the universes of the Embers of War series and the Continuance of Stars and Bones and Descendant Machine.

Titan will publish Future's Edge in February 2025, followed by Who Will You Save? in September 2025.

Powell said: "I'm delighted to be continuing my relationship with Titan Books. Having already worked with Cath and the team on five previous novels, including the award-winning Embers of War trilogy, I know Future's Edge will be in very good hands. I'm also very excited about Who Will You Save? This will be my first widely available collection, and I look forward to sharing these stories with readers."

Trechman said: "I am so thrilled about these two new titles. Future's Edge promises to be a gripping and heartfelt horror-tinged space adventure as only Gareth can write, and the short stories perfectly showcase his witty and inventive science-fiction. Gareth is such a pleasure to work with, truly one of nicest guys out there and so hard-working and dedicated, we all feel very lucky to have him on our list."
The short story collection is pretty much complete, and I am around a third of the way into writing the novel. And I'm so happy I finally get to talk about these projects, as I hate keeping secrets!
Stay tuned for further developments.
No tags for this post.