Embers of War is the first in the highly-anticipated Embers Of War trilogy, which will continue with Fleet Of Knives and Light Of Impossible Stars. A thoughtful, character-driven space opera that will appeal to fans of Iain M. Banks and Ann Leckie, the series follows the fate of the sentient warship Trouble Dog and her crew. They built her for violence. They made her a war criminal. But now she's fighting back.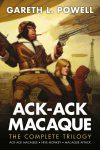 Ack-Ack Macaque: The Complete Trilogy
The complete omnibus collection of the startling, fast-paced SF trilogy, starring a cigar-chomping monkey, nuclear-powered Zeppelins, electronic souls and a battle to avert armageddon. A new edition in the Solaris Classics selection. Collected together here for the first time in one volume, the award-winning Ack-Ack Macaque novels are a gripping examination of what it means to be truly human. And in Ack-Ack Macaque, they introduce us to one of literature's most unpredictable and exciting heroes.
Entropic Angel collects together some of Powell's best-loved stories alongside others that have not been previously collected and some that are wholly original.


Ack-Ack Macaque – Winner of the 2013 BSFA Award for Best Novel.
A smart, fast-paced thriller. When former journalist Victoria Valois starts investigating the murder of her ex-husband, she attracts a motley assortment of unlikely allies—including a surgically upgraded monkey who drinks, smokes and curses, and can even fly a plane!


Hive Monkey
The near-future thriller continues. With a barrel-full of trouble and a chamber-full of attitude, the charismatic-but-dangerous Ack-Ack has gone into hiding, working as a pilot on a world-circling nuclear-powered Zeppelin.


Macaque Attack
Ack-Ack's back – and this time he's brought an army!
He's saved the world twice. Now, in the thrilling conclusion to the award-winning Macaque Trilogy, Ack-Ack Macaque finds himself leading a dimension-hopping troupe of angry monkeys, facing an invading horde of implacable killer androids, and confronting the one challenge for which he was never prepared: impending fatherhood!


The Recollection
When his brother disappears into a bizarre gateway on a London Underground escalator, failed artist Ed Rico and his brother's wife Alice have to put aside their feelings for each other to go and find him. Their quest through the "arches" will send them hurtling through time, to new and terrifying alien worlds.


Silversands
In an age where interstellar travel is dangerous and unpredictable, and no-one knows exactly where they'll end up, Avril Bradley is a Communications Officer aboard a ship sent to re-contact as many lost souls as possible.


The Last Reef
What do you try to save when your world falls apart? Gareth L. Powell's first collection of short fiction features a motley collection of archaeologists, hackers and ex-cops struggling to answer that very question. As their lives implode around them, will they use the moment to save their own skins, or to find a way to make up for past misdeeds?