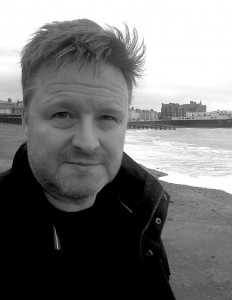 "Unique and exciting." – SFFWorld
GARETH L. POWELL is an award-winning writer from the UK. He is the author of the novels Silversands, The Recollection, Ack-Ack Macaque, Hive Monkey and Macaque Attack.
His alternate history thriller, Ack-Ack Macaque won the 2013 BSFA (British Science Fiction Association) Award for Best Novel. It has also been shortlisted for the 2016 Seiun Awards in Japan.
Ack-Ack Macaque was published in the UK by Solaris Books, and in Japan by Tokyo Sogensha. Fantasy Book Reviews placed it at #40 in their list of Top 100 Fantasy Books, and it has also inspired a comic strip, fan art, graffiti murals, a pop song, and at least one tattoo.
In 2011, The Guardian review of Gareth's second novel, The Recollection, insisted that, "If you only read one space opera this year, it's got to be The Recollection." The book went on to be translated and published in Germany by Heyne (a division of Random House) under the title Sternentor.
Gareth is currently working on a new trilogy of novels.
Gareth's short story 'Ride The Blue Horse' made the shortlist for the 2015 BSFA Award. His short fiction has appeared in a host of magazines and anthologies, including Interzone, Solaris Rising 3, and The Year's Best Science Fiction. Many of these stories have been brought together in the collections, The Last Reef (2008) and The New Ships (coming in 2017 from NewCon Press).
The Guardian says, "Powell draws his characters with fine brushstrokes." SF Book Reviews places him, "at the forefront of science fiction," and Gutenberg's Son writes that he, "has managed to find the balance between thoughtful existentialism and pulp adventure."
In addition to his fiction, Gareth has penned a strip for the long-running British comic 2000 AD, composed song lyrics for an indie electro band, and written articles and reviews for The Irish Times, Acoustic Magazine, and SFX.
As a teenager, Gareth had one of his early short stories critiqued by Diana Wynne Jones, who gave him some invaluable early advice on writing science fiction. In the early 1990s, he studied creative writing at the University of Glamorgan, under Helen Dunmore. He has since run a genre fiction workshop at Aberystwyth University and given guest lectures on creative writing at Bath Spa Uni. He is also a popular panelist and speaker at literary events and conventions around the UK, and was a guest of honour at BristolCon in 2012. He is a frequent guest on local radio, and has appeared on the BBC Radio 4 Today Programme.
Gareth lives near Bristol with his family, and is represented by Alexander Cochran of the Conville & Walsh literary agency.