'Tis the season when a writer's thoughts turn to cobbling together a retrospective look at the year. But rather than churning out the usual lists of books read or movies watched, I thought I'd take a look at some highlights that meant a lot to me personally.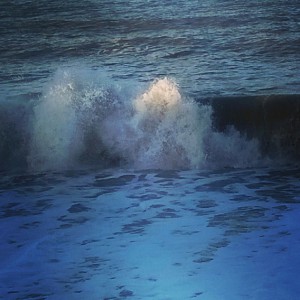 Aberystwyth
I got invited to run a genre fiction workshop for the creative writing students at Aberystwyth University. To get there, I had to drive through some of the best scenery in Wales. There's nothing like several hours alone in a car, surrounded by stunning valleys and mountains, to refresh the soul.
The workshop went well, as did the reading afterwards. I got to talk about the nitty-gritty of writing with people who were interested to hear what I had to say. And the next morning, an early walk along the beach allowed the sea air to blow all the cobwebs from my mind.

Conventions
This year, I attended the SFWeekender in North Wales, where I got to play Just A Minute on stage with Sylvester McCoy and Sophie Aldred.
I went to Eastercon at Heathrow, where I had the honour of hosting the BSFA Awards ceremony.
I went to Nine Worlds, where I spent three enjoyable days catching up with friends and colleagues while experiencing possibly the worst bar service I've ever encountered.
And I went to FantasyCon in
Nottingham, where I played several panel games and sang a karaoke version of 'Sweet Child O' Mine' with Emma Newman, Donna Scott and Neil Bond. My main recollection of the weekend, however, (apart from the disco and the late night drinking sessions) was of walking on my own between the hotel and the convention centre as the Moon rose from behind the hedge and the fairy lights came on in the trees, turning a drab campus car park into an enchanted space.
Other Events
I was lucky enough to be invited to interview Peter F Hamilton for the BSFA in London. He was a joy to talk to, and has kindly agreed to return the favour next year, when he will be interviewing me!
I also got to read my work and talk about genre fiction at Bristol's Novel Nights salon, and at the Super Relaxed Fantasy Club in Holborn.
Books
The book I enjoyed reading most this year was Planetfall by Emma Newman. I first read it some time ago, when it only existed as a Word document, and was blown away. It's a heartbreaking, compulsive tale that deserves a place in the pantheon of science fiction  classics. A brilliant book. If you haven't read it yet, I humbly suggest you do so with all haste.
As regular readers will know, Macaque Attack,
the third part of my 'Ack-Ack' trilogy was published by Solaris Books in January 2015, and accompanied by a signing tour that took in Southampton, London, Cambridge, Bristol, Liverpool and Birmingham.
The Guardian said, "The ideas fizz off the page, too, with riffs on the nature of reality and quantum physics."
And SFFWorld wrote: "Powell has delivered one of the most unique and exciting trilogies in recent years, and I applaud him for doing so. Highly recommended."
Then, in December, the Japanese translation of Ack-Ack Macaque appeared, under the title Gunmetal Ghost, and I started hoping my work might find a whole new audience abroad. Also, the cover they gave the book was amazing, and I instantly fell in love with it.
At the time of writing, Gunmetal Ghost is at number three in the Amazon military fiction chart, so you never know, it might prove to be a hit.
And to cap off a great year, I found that a short story of mine ('Red Lights, And Rain') was included in Gardner Dozois' Year's Best Science Fiction anthology, and another of mine mentioned in the book's 'honourable mentions' section. I could not have been more chuffed.
Graffiti
I woke one morning in September to find an artist called Rollin Kunz had spray-painted this striking, 6ft tall portrait of Ack-Ack Macaque on a wall in Austin, Texas.
I take the existence of this picture as a huge compliment, and my only regret is that I can't immediately fly over to Texas to see it in person.
Films
Of course, Star Wars made this list. Holy crap, it was brilliant. I sat through the whole film with a stupid grin on my face and tears running down my cheeks. I was seven years old all over again, and it was superb.
I also enjoyed Avengers: Age of Ultron and Ant Man in the cinema, and I'm hoping to see The Martian at some point because I really enjoyed reading the book this year.
As far as movies go, it's a really great time to be a geek.
People
But for me, the best part of 2015 was the time I spent with friends and family, whether in a hotel bar or simply having a coffee at home. It is the people you get to meet in this job that really make it special.
And this gives me an excuse to include one of my favourite photos. I only get to see my sister two or three times a year, as she lives in rural France. This was taken when she was last over, in October. Aren't we photogenic?
And Finally…
To everyone I've mentioned, to all the editors, agents, authors, and publishers who keep this genre forging onwards – and most of all to the readers who appreciate our efforts, a quick message:
See you in 2016!
No tags for this post.